FL Studio для Android
FL Studio для Android
Создание музыки в современном мире – это очень актуальное направление. Настоящие фанаты дела готовы заниматься этим везде и всегда. Чтобы иметь под рукой мощный инструмент для создания музыкальных файлов, достаточно установить FL Studio Mobile, скачать на Андроид который не составит труда. Софт регулярно обновляется, поэтому остаётся конкурентоспособным.
Программа позволяет создавать весьма качественные треки и сохранять их в форматах WAV, MP3 и даже FLAC (без потери качества при сжатии). Имеется возможность синхронизации с десктопной версией FL Studio. То есть, работу над проектом можно будет продолжить на ПК.
У приложения отличная оптимизация. Именно поэтому для его нормальной работы не требуется чересчур мощный смартфон. Даже многие бюджетники без проблем справятся с данной программой. При этом заряд аккумулятора расходуется экономно.
Лучшие секвенсоры для телефонов и планшетов
Мобильные устройства всё доступнее и позволяют быть на связи в любое время. Если вы творческий человек, и не всегда имеете возможность взять с собой ноутбук, то мы подобрали приложения для телефонов и планшетов, которые однозначно пригодятся! Многие из них включают в себя множество функций для создания музыки (на уровне функционала DAW программы), но работают только на Android и iOS.
Audio Evolution Mobile Studio
Приложение доступно для Android и iOS. За небольшую стоимость вы получите простой в использовании редактор аудио. Добавляйте неограниченное количество звуковых дорожек (сколько позволит память вашего устройства). Реализовано большое количество инструментов, которые помогут полноценно редактировать музыку. Для каждой дорожки доступна регулировка громкости, эффекты и эквалайзер. Это полноценная DAW программа и самый мощный мобильный редактор на данное время.
Cubasis 2
Как можно догадаться по названию, Cubasis 2 — это портативный вариант Cubase от Steinberg.
Cubasis 2 является одним из самых мощных аудио и MIDI-секвенсеров для iPad. Впечатляет высоким качеством звука, профессиональным оборудованием, а также широкими функциями импорта и экспорта. Мобильный вариант приближается к полноценному секвенсору. Как недавно было объявлено, компания Wave присоединяется к разработке и адаптирует свои плагины под Cubasis 2. Получите полную синхронизацию и поддержку проектов! Только для iOS.
FL Studio Mobile 3
Если вам интересно, есть ли FL Studio для мобильных устройств, то… уже есть третья версия!
Самое популярное программное обеспечение для битмейкеров и не только, доступно на Android и iOS. Хотите создавать музыку прямо на планшете? Загрузите FL Studio Mobile и получите расширенный функционал, высококачественные инструменты, эффекты и синхронизацию проектов полноценной программы. Отличная DAW для написания электронной музыки.
n-Track Studio Pro
Многодорожечный аудиорекордер n-Track Studio Pro убедит количеством дорожек, продуманными функциями и интуитивно понятным интерфейсом. Особенно успешно реализована автоматизация эффектов! Кроме того, в приложении доступны инструменты для обработки вокала и наполнения его пространством. Интегрированное приложение «Songtree» позволяет создавать музыку онлайн в сотрудничестве с другими производителями. Вы можете создавать музыку вместе, или внести правки в чужие проекты. Много творчества и веселья!
G-Stomper Studio
G-Stomper — это семплер с синтезатором и полифоническим секвенсором. Для игры доступна виртуальная клавиатура, а за обработку позаботится секция эффектов. В Groovebox можно найти VA-Synthesizer, Piano-Roll-Editor, Mixer и Effect-Rack. Программа будет полезна производителям электронных стилей. Его изюминкой будет очень гибкий синтезатор. Только для Android.
Auria PRO
Приложение Auria PRO имеет неограниченные звуковые дорожки и позволяет одновременно записывать до 24-х каналов. Каждая полоса виртуального микшера имеет четыре слота для эффектов. Все процессоры были разработаны такими известными производителями как PSP, FabFilter, Overloud и Drumagog. В программе есть возможность приобрести дополнительные инструменты и наборы ударных. Отличная мобильная платформа для работы на iOS с живыми записями.
Meteor
Meteor предлагает до 16 треков (с возможностью расширения до 32 с In-App), расширенные MIDI функции и производительный микшер. Функции редактора включают копирование, нарезание, вставку, очистку, нормализацию, смещение по темпу и многое другое!
Кроме того, на борту находятся качественные виртуальные инструменты и эффекты (дилей, хорус, фленджер, реверберация, графический эквалайзер, усилитель тона, компрессор и сатуратор), а также обширные функции экспорта.
Официальный сайт: Meteor (сайт не работает, возможно приостановлена поддержка данного приложения).
Garageband
Программное обеспечение для создания классической музыки от Apple теперь стало мощным звуковым и MIDI-секвенсором с 32-мя треками, высококачественными инструментами и эффектами.
Благодаря функции Live Loops вы можете делать сведение и сопоставлять зацикленные лупы в режиме реального времени. Кроме того, можно подключиться к живому инструменту, а затем записать его в микс. Создавайте музыку с Garageband везде, где бы вы ни находились, добавляя заметки для удобства редакции.
Об авторе: mix-master
Частичное или полное копирование любых материалов сайта возможно только с указанием ссылки на первоисточник.
Возможности
FL Studio Mobile позволит Вам создавать и сохранять завершённые многодорожечные музыкальные проекты на Вашем смартфоне или таблете. Более того, те проекты, которые Вы создаёте на FL Studio Mobile, Вы можете загружать на Ваш персональный компьютер в популярную музыкальную программу-редактор «FL Studio Desktop PC» и бесконечно совершенствовать и оттачивать звучание Вашей музыки. Уникальность и графическое ядро данного приложения на Андроид делают его незаменимым помощником для создания различных музыкальных произведений.
COMMUNITY CONNECTION
Music is an excellent bridge for everyone. Each country, each locality has different languages. Regions have different ways of conveying its voice, which is their native language. But for music, it all merges into one. FL Studio Mobile, let us act as a bridge for you to create borderless music, regardless of skin color, regardless of the region, no matter who they are, what they do. We are all simply listening to music that everyone loves, and we all love music. That is enough!! I hope that you will find what you wanted with our best efforts by putting in this newly updated software. With the music creators and audio editors that FL Studio Mobile has, create incredible and emotional music, just like the owner.
An application deserves to be displayed on your device, everyone who has used it will agree with this. How about you? Are you ready for the beautiful moments with FL Studio Mobile? As a new application, we hope to receive a lot of your feedback about our official website. Thank you very much for your contributions, and have a very peaceful new day with your favorite music.
List of 15 Best Audio Editing Apps For Android
Today, we will be talking about the best music editing apps for Android. With audio editing apps, you can edit music files on your Android. So, let's check out the list of best audio editing apps for Android.
1. MP3 Cutter
As the name of the app says, the MP3 cutter is an application that lets you cut parts of MP3. However, apart from cutting MP3 files, it also offers many basic audio editing features.
It supports almost all major audio formats. Additionally, you can use it to merge clips, remove specific parts from audio, change the file size, silence audio, and more.
2. Media Converter
With this app, you can edit your media files according to your wish. Media Converter allows you to convert all kinds of media formats to popular media formats: mp3, mp4 mpeg4, aac, Ogg, Avi (mpeg4, mp3), MPEG (mpeg1, mp2), Flv (Flv, mp3), and WAV.
Also, audio profiles: m4a (aac-audio only), 3ga (aac-audio only), OGA (FLAC-audio only) are available for convenience.
3. Super Sound
It's one of the best and most powerful audio editing app that you can ever use on Android. From audio editing to mixing, Super Sound does it all.
Some of the key features of Super Sound include audio editing, multitrack editing, audio trimmer, audio converter, volume control, etc. The app is completely free to use, but it's ad-supported.
4. WavePad Audio Editor Free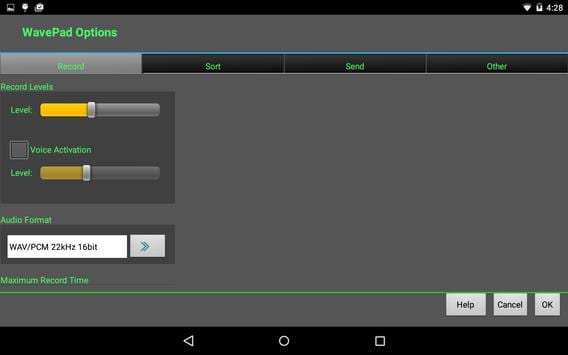 With this app, you can record, edit, and add sound effects to any audio file. It's a full-fledged audio editing app that can be used to cut, copy, paste, insert, merge any audio clips.
The only drawback of the app is its interface. The user-interface looks outdated and it's bloated with few unnecessary features.
6. Lexis Audio Editor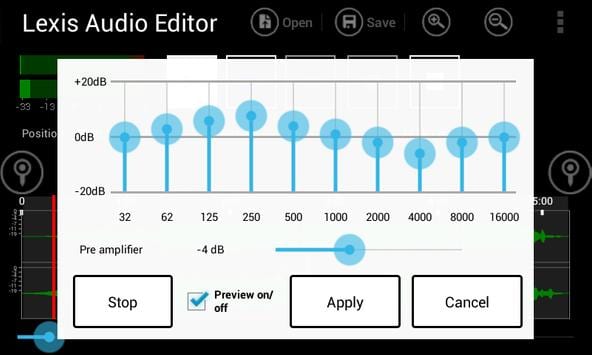 With Lexis Audio Editor, you can create new audio records or edit audio files with the editor. Save the files in the desired audio format.
The trial version has all the paid version features, including saving in WAV, M4A, AAC, FLAC, and WMA format. You need to purchase the paid version to save audio files in MP3 format.
7. Walk Band – Multitrack Music
It is a music studio (a toolkit of virtual musical instruments) suite for Android. It contains tons of features including Piano, Guitar, Drum Kit, Drum Machine, Bass, Multi-tracks synthesizer, etc.
All instruments use realistic instrument sounds. You can add the drum beats and guitar chords to your piano melody.
10. Timbre
Well, Timbre is an app for editing audio and video files. It allows you to edit, cut, join, and convert your media files.
With Timbre, you can change Audio Bitrate, remove audio from a video, convert video to audio format, change audio speed, etc. It is completely free and has no ads.
11. MixPad Music Mixer Free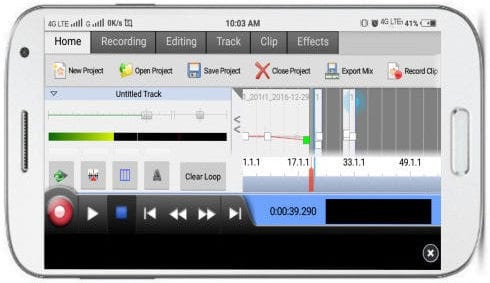 If you are searching for an Android app to mix your audio and music files, then you need to give MixPad Multitrack Mixer a try. The app offers lots of professional audio recording and mixing features to edit audios on the go.
Although the app has many advanced features, it's mostly used to create music, record a podcast, mix songs, etc. Users who do not know about audio editing might find the app complicated to use.
12. edjing Mix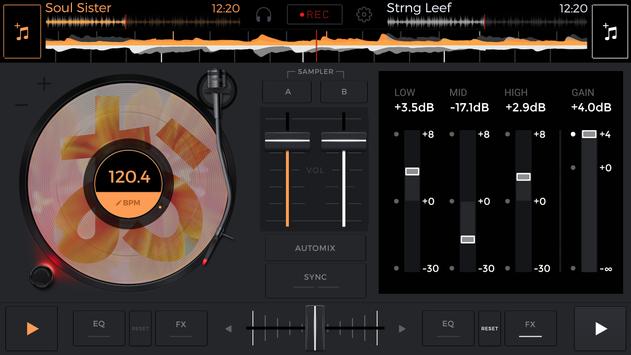 According to the play store listing, edjing Mix has been designed in partnership with pro DJs. We don't know how true is that, but it offers lots of powerful DJ tools.
The great thing about the app is that it provides you access to millions of tracks that you can use to remix some party music. The app has an intuitive interface that gives you direct and quick access to all necessary features.
14. FL Studio Mobile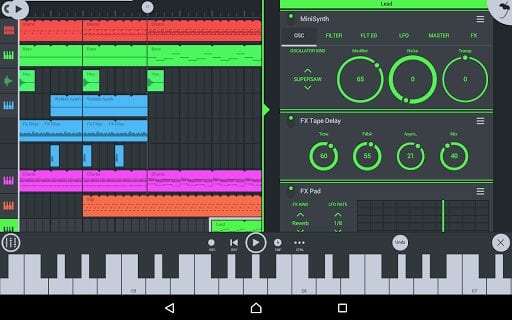 With FL Studio Mobile you can create and save complete multi-track music projects on your Android phone or tablet. This is an audio editing tool that comes with lots of exciting features like you can record, sequence, edit, mix, and render complete songs.
However, this is not a free tool. You need to spend around $5 to purchase the app from the Google Play Store.
15. Recording Studio Lite
It is a multitouch sequencer for Android devices. Recording Studio makes recording, editing, and mixing a breeze.
The app's free version allows users to record up to 2 tracks by choosing between audio recording or by using the virtual instrument offered by the app itself.
16. Music Maker JAM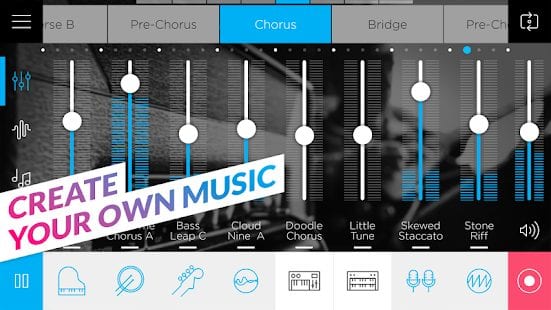 Well, Music Maker JAM is another best Android audio editing app that you can consider. The great thing about Music Maker JAM is that it offers thousands of studio-quality loops, beats, and samples, etc.
Not just that, but Music Maker JAM is also an ultimate sharing platform that allows users to share their tracks directly on different audio platforms like SoundCloud, Facebook, WhatsApp, etc.
17. AudioLab
It is an unreleased app, but you can enjoy it on your Android. The great thing about AudioLab is that it features almost every audio editing feature that users search for.
With AudioLab, you can cut audio, merge audio, record audio, and can do lots of other audio editing stuff.
18. Audio Editor from AndroTechMania
It is another best in class music editor app that you can use on your Android smartphone. The great thing about Audio Editor is that it provides users with lots of useful tools.
With this program, you can create ringtones, mix songs, change audio formats, etc. Not just that, but Audio Editor also offers an Audio Extractor and Tag editor as well.
19. WaveEditor for Android
The great thing about WaveEditor for Android is that it supports a wide range of audio file formats and makes it suitable for audio format conversion. Not just that, but with WaveEditor for Android, you can also mix and edit multi-track.
If we talk about the features, WaveEditor supports multi-track mixing & editing; it offers visual editing tools, a wide range of export options, and more.
So above are the Best Audio Editing Apps For Android. I hope this article helped you! Please share it with your friends also. If you know any other such apps, let us know in the comment box below.
Best Audio Editor for Android
1. Dolby On: Record Audio & Music
If you're looking for audio editors with a built-in audio recorder, Dolby On is the one for you. It's a newly released app that has both the tools, i.e, record (lossless audio) and edit. You have preset that you can use depending on the type of audio you want to edit. There are presets like the lyric, natural, deep, thump, etc. with an option to tweak the filter intensity.
The app also allows you to add visualization as artwork on your tracks which can be exported as video files
Other tools include noise reduction, boost sound, 3 bands EQ, and also a trim function. You can edit audio and use all these features by just tapping and tweaking the level with a single swipe. That's not all, connect your Soundcloud or Twitch and you're ready to publish it right away.
Price: The app is free
2. WaveEditor for Android
WaveEditor lets you record, master, and edits audio files on the go. It supports multiple formats and lets you edit without much effort. You can mix and edit multiple tracks using visual tools like FFT, Oscilloscope, Spectrogram). You can import audio files in over 30 different file formats but export is limited to AIFF, FLAC, MP3, OGG, PCM, and WAV.
It also has a standalone audio recorder along with an in-editor audio recorder which lets you record audio even during the editing which is on par with professional software you get on Mac. It has all the major editing functions like zooming, panning, and selection. You can also add macro processes such as Fade, reverse, and invert.
Price: WaveEditor is free on the Play Store and you can unlock all the locked features for around $3.99, plus you get a recorder widget.
3. Mstudio
Mstudio lets you record, edit, mix, merge, extract, and convert audio files. It also includes advanced functions like tempo change, pitch adjustment, mutter, and omit. You can remove audio from existing video clips, amplify and even convert the clip to play audio in reverse, cool right?
Every function is separate and you don't have to look through menus and sub-menus to find any of those features, you can simply select a function and take it from there. All the files processed with this app are neatly organized in the saved files tab.
Mstudio is great for creating your own remix, mashups, changing the audio format, creating ringtones, etc.
Price: The app is free on the Play Store.
4. Voice PRO
With Voice PRO, you can record your voice or music in 100 different formats with up to 320kbps bitrate and up to 48000 Hz sample rate. In fact, you can even encode the audio file in 8 or 16 bytes and register them in Mono or Stereo formats. Other features of the app include but not limited to backup and restore recording files from cloud services like Google Drive, Dropbox, etc., ability to add real-time background music to your recordings, mix and merge recordings in any format, ability to remove vocals, file conversion, support for encryption, call recording, ability to tag certain parts of the music, earphone control to micromanage background effects, etc.
Additionally, the app can also convert your voice records to text in 40 different languages.
Price: Voice PRO is a completely paid app ($12.99). But, thanks to Google Play return policy, if you don't like the app, you can still return it within 2 hours from the time of purchase.
5. Audio Evolution Mobile Studio
Of all the apps in this list, Audio Evolution Mobile Studio has some of the best features that let you do some advanced audio editing. Using the included tools, you can do multitrack audio recording, perform basic actions like move, cut, trim, and remove tracks, MIDI sequencing, sample rate conversion, latency correction, ability to import and export files in different formats, create separate audio files from different audio tracks, etc. Best of all, the app has support for real-time background effects, virtual instruments, and each track in your audio file has its own controls to micromanage specific tracks as and when needed.
If you want to, you can even connect to USB mic and record/edit audio files from there. However, this feature requires an additional in-app purchase.
Price: Just like Voice PRO, Audio Evolution Mobile Studio is a completely paid app. You can purchase the app directly from the Play Store for $6.99. The good thing is, there is a free trial available with limited functionality so that you can give the app a test drive before buying.
6. FL Studio Mobile
FL Studio Mobile lets you create and edit your own music using high-quality synthesizers, drum kits, sampler, and sliced-loop beats. If need be, you can customize the layout of the drum pads and virtual piano keyboard. Additionally, you can further manipulate your recording or music using a wide range of included effects like chorus, auto ducker, limiter, filters, delays, reverb, etc. Moreover, the app also lets you browse samples and presets while listening to the actual and proper previews.
You can even change the pitch of the samples and presets while previewing for better selection. Other options of the app include but not limited to the support for MIDI controller support, MIDI file import and export, adjustable options and settings on per instrument basis, support for exporting audio files in both MP3 and WAV formats, step sequencer, etc.
If you are looking to edit your existing music or to create your own, FL Studio Mobile is for you.
Price: The app is priced at a whopping $15.99. Additionally, you need to do in-app purchases if you want additional music content and synths. But if you don't like in-app purchases, you can always download those files from the internet and manually add them as needed. Though the price looks a bit high, it is worth every penny considering all the options, user-friendliness, and customizability.
7. Lexis Audio Editor
Lexis Audio Editor's user interface resembles slightly of Audacity due to its waveforms, sliders, an upfront options panel, etc. It is not as powerful as the above apps, it sure is helpful as long as your editing requirements are simple. i.e, you can cut, copy, and paste streams, normalize, reduce noise, delete or insert streams, trim, add fade-in and fade-out effects, change pitch and tempo, mix the current audio file with another audio file, etc. For editing, apart from importing regular audio formats like WAV, mp3, FLAC, m4a, aac, and WMA, you can also import video formats like mp4, 3gp, and 3g2.
It also has 10 band equalizer and composer to further customize your music or recordings. As I said, if your needs are simple then try Lexis Audio Editor and see if it fits your needs.
Price: Lexis Audio Editor is free with ads and restricts you from exporting audio files in mp3 format. You can remove these restrictions via in-app purchases.
8. WavePad
WavePad is very similar to AudioDroid in that it lets you do basic editing tasks like cut, copy, paste, trim, delete, silence selection, etc. Other than that, you can also add various effects like compress, normalize, amplify, noise reduction, etc. The good thing about WavePad is that it is very easy to use thanks to its simple and mostly clutter-free user interface. However, the bad thing about WavePad is that it doesn't support all Android devices.
Price: The base version of WavePad is free. It is limited in terms of features and contains ads. You can unlock individual features via in-app purchases or buy the full version for $14.99.